So you have decided to go on a bike tour in Spain and consider Mallorca as a destination. Mallorca, the largest island of the Balearic islands, sits off the coast of Spain, in the middle of the Mediterranean sea - you might have heard about it from other cyclists, seen it on a YouTube video, or even read a blog about it and wondered why there's so much hype about a cycling holiday in Mallorca.
In this article, we'll get into the why, how, when and where to go cycling in Mallorca!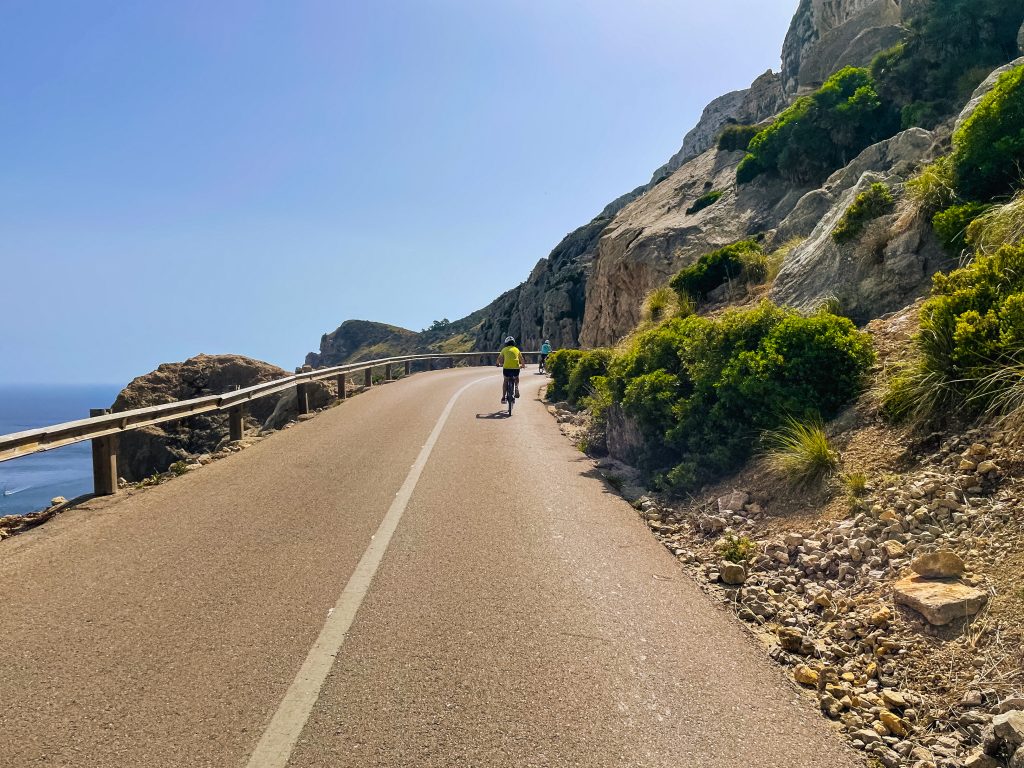 🚴🏻 Why Cycling in Mallorca?
There are many reasons why you might want to go to Mallorca for a cycling holiday. It could be the great weather, might be the lovely locals, here are our top reasons.
Great hospitality
Mallorca has been a tourism hotspot since the 1950s. Each year they see up to 10 million visitors per year. Most riders go cycling in Mallorca in the shoulder seasons to avoid mass tourism, choosing to go from March to May and September to October. The locals are excellent, and you will find everything you need, from bike tour operators to excellent cycling hotels and many bike rental options for cyclists. There are also plenty activities to pursue when you are not on your bike, from hiking in the Tramuntana trails, to enjoying the historical centers of Alcúdia, Pollença or Soller or the secluded Calas with pristine, hot water.
Weather
Cycling in Mallorca, you will find temperatures from 17 to 22 degrees celcius in Spring and Autumn, which makes it great for cycling - this is the best time to go. In the winter, you will see 10 to 15 degrees, and summer can get pretty hot at 25 to 30 degrees. But in general, Mallorca is a place you can easily cycle all year round hence so many professionals live there.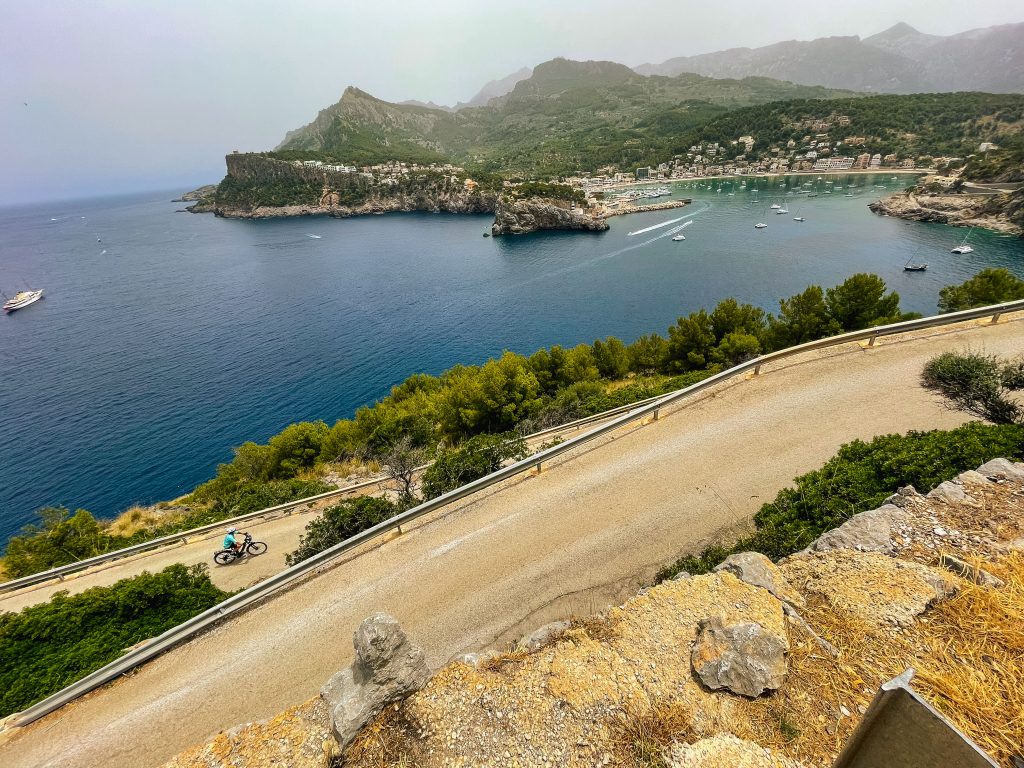 Cycling Routes and Roads
Mallorca is known for its excellent roads. Not only do the best roads contain minimal traffic, but they are well maintained and very smooth. One of our favorite regions being Sineu, birthplace of Olympic cyclist Francisco Tortellá.
What makes cycling routes in Mallorca so special is you have so many options. You can hit the flatlands for a recovery day, or you can go to the mountain for some leg destroying hills, one of our favorite climbs being the legendary Cap de Formentor. And if you want to go epic, you can tackle the all powerfull Sa Calobra, where Sir Bradley Wiggins trained for his 2012 Tour de France win. You also have lots of off-road options. The Mallorca gravel and mountain bike scene is excellent, and you can have a huge amount of fun with larger tires.
Hotels and Accommodation
You might have heard of the legendary Mallorca cycling hotels. Many hotels in Mallorca not only cater to cyclists, but many are bases for a professional cycling training camp. Road cyclists flock from all over the world to prepare for the cycling season. Many hotels that you go to in Mallorca can accommodate for you to bring your own bike or store road bikes you might hire too and have dedicated rooms where they can be kept safe and workshops where you can tune them if required.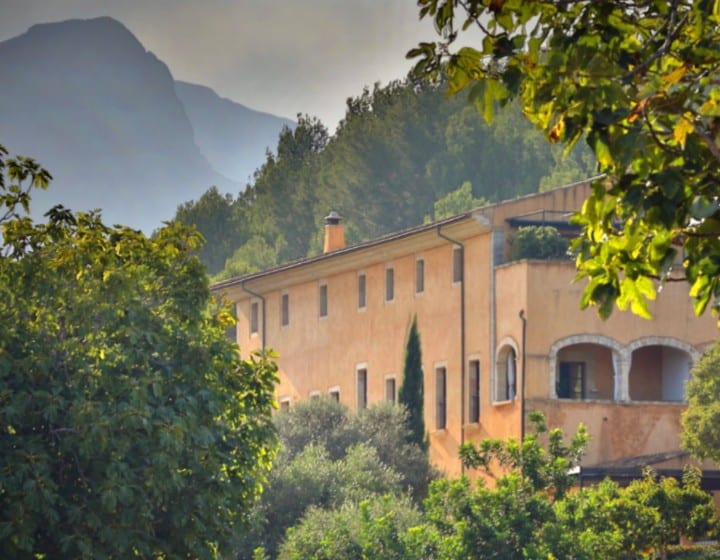 Food and Drink
Cycling burns a lot of calories, and they are going to need replacing. You should definitely try the Arrós Brut, a traditional rice dish with vegetables and meat, or the gorgeous Frit Mallorquin, a very classic Mallorcan dish traditionally made with offal and vegetables. If you are lucky enough to go in Easter, we highly recommend the Parades and Rubiols, which are very tasty savory filled pastries.
Of course, we must also mention of the incredible local wines. Sa Vall Selecció Privada, a high quality wine made using Prensal Blanc, fermented in barrels and is very limited in production. Golden, Ca'n Majoral, the wine is from a beautiful vineyard that year after year produces wine full of character and Mallorcan spirit.
Not only is a lot of the food and drink locally sourced, but the variety is incredible. Spain is famous for the way food changes from region to region, and a days cycling can completely change the way it's made and the effect the food will have on your palate.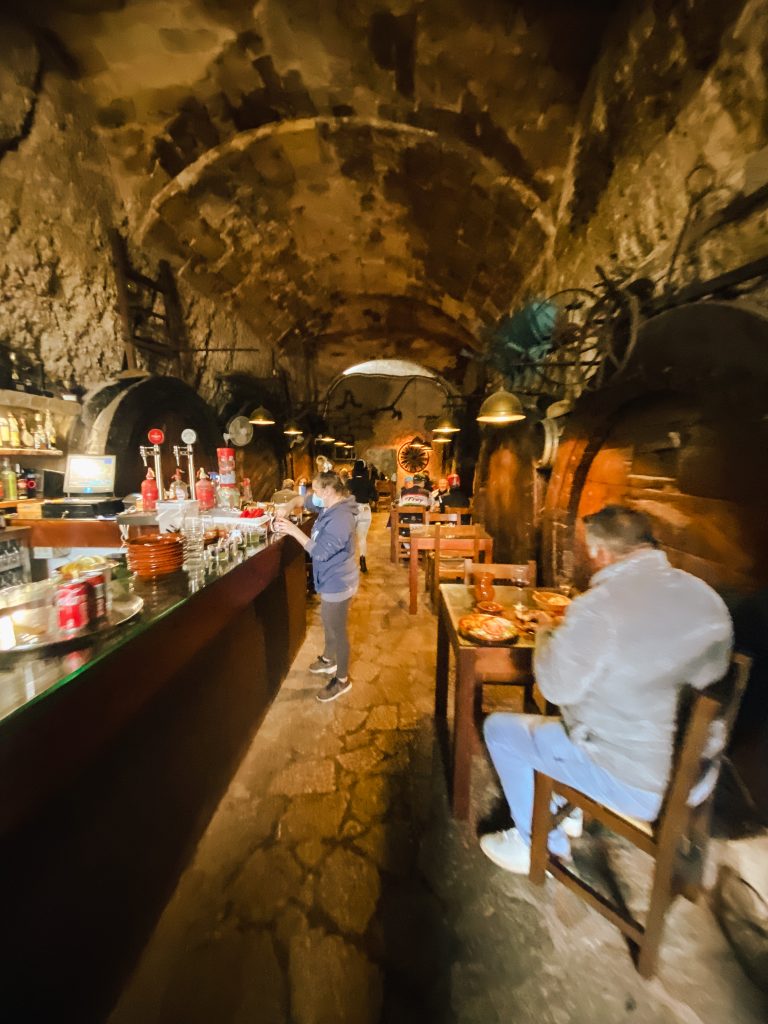 Flights and Transfers
Another great feature of Mallorca is that so many airports fly to the island. It's very cheap to fly to, and when you get there, it's only a 40 minute transfer from the airport. A lot of the airlines going into Mallorca such as British airways are cheap or free to fly with a bike too.
🚴🏻 How to go cycling in Mallorca -Planning your Holiday
When it comes to planning a cycling holiday, you have many options to choose from. Many cyclists think you have to do it all yourself, which can be challenging. What a lot of cyclists don't know is many companies have available to help make it much easier for you.
Do it Yourself
Some cyclists choose to completely organize their holiday themselves. This means you will have to source multiple hotels, organize flights, transfers, ensuring the safe travel of your bikes or bike hire, and then research and organize your own routes before you go. Doing it this way does save you a bit of money, but it takes ages to plan, and it can take away from the experience.
Self Guided
Self-guided bike tours in Mallorca are one of the most popular way to explore Mallorca. All you have to worry about is sorting your flights. You get picked up from the airport and returned after. All your hotels are organized with breakfast included. You will be provided a bike with a Garmin and all your cycle routes, to follow daily, as well as access to our smartphone app, that you can use to navigate and to check our favorite restaurants, museums and experiences throughout your holidays. All luggage transfers are included, so you don't have to carry luggage while you are cycling. This is a great option if you have experience navigating by yourself and want a stress free holiday and enjoy cycling on your own or in small groups more - click here for more info on what to expect on our self-guided bike tours.
Guided
The next option is going on a guided bike tour in Mallorca. It has all the benefits of self-guided, but on each one of your bike rides, you get a guide with you 24/7, a jersey each, vehicle support, and all the nutrition you require for the miles ahead of you. This is a very fun way to experience a cycling holiday, and having a guide goes such a long way when it comes to learning about Spain as a place and its culture. We'll also be able to adapt the rides to your pace and take you out to our favorite restaurants and spots in the island. You can choose from either joining a group tour, or booking a private experience.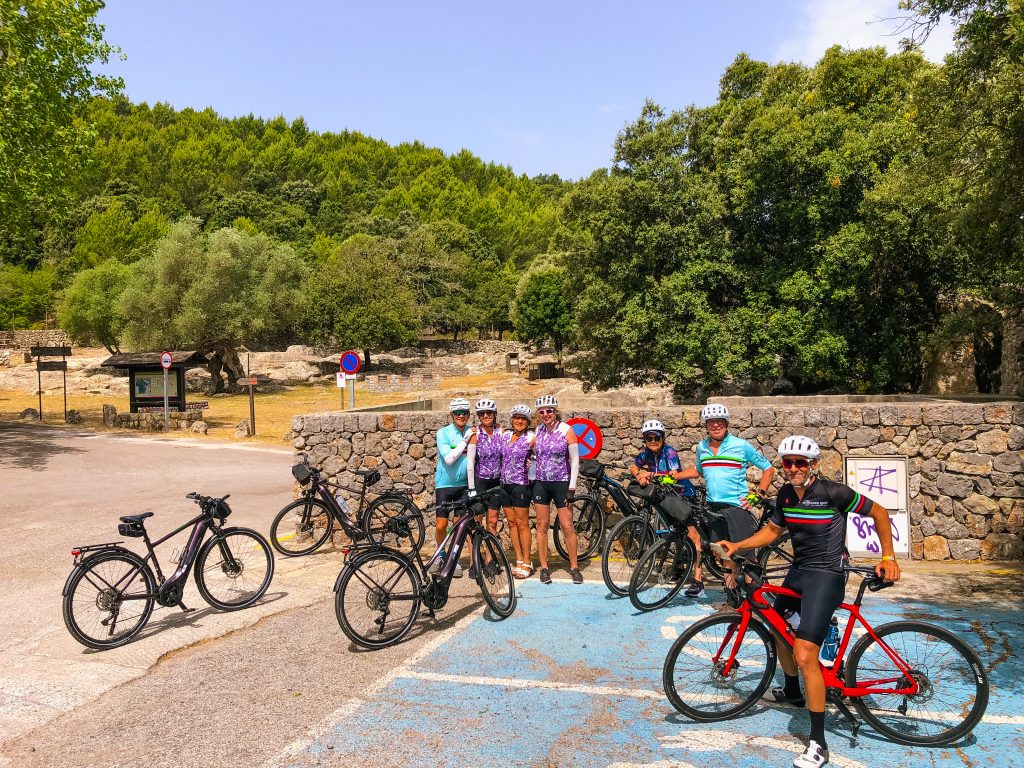 🚴🏻 Where to ride - Mallorca's Cycling Highlights
Mallorca is a cycling mecca, and there's a lot to explore, from tall mountains to epic beachside roads. If you're only going for a short amount of time, what are the region's highlights?
Cap de Formentor
The Cap de Formentor is a legendary route that takes you to a lighthouse on the island's edge. On our tour, you take the Port de Pollença to Cap Formentor road. It was constructed in the 1930s by Spanish engineer Antonio Parietti. He was the genius behind another famous climb in the region called the Sa Calobra, that we will speak about later.
It is an incredible road to get there, which is smooth and takes you two great climbs. You start by passing Formentor beach and have to work your way up to the cape. You are rewarded at the top with epic views from the lighthouse, a cool breeze, and a great feeling of satisfaction. We highly recommend on the return a beach stop at Calla San Vicenç, a magnificent little village where you can get an incredible lunch, and the seafood dishes come highly recommended.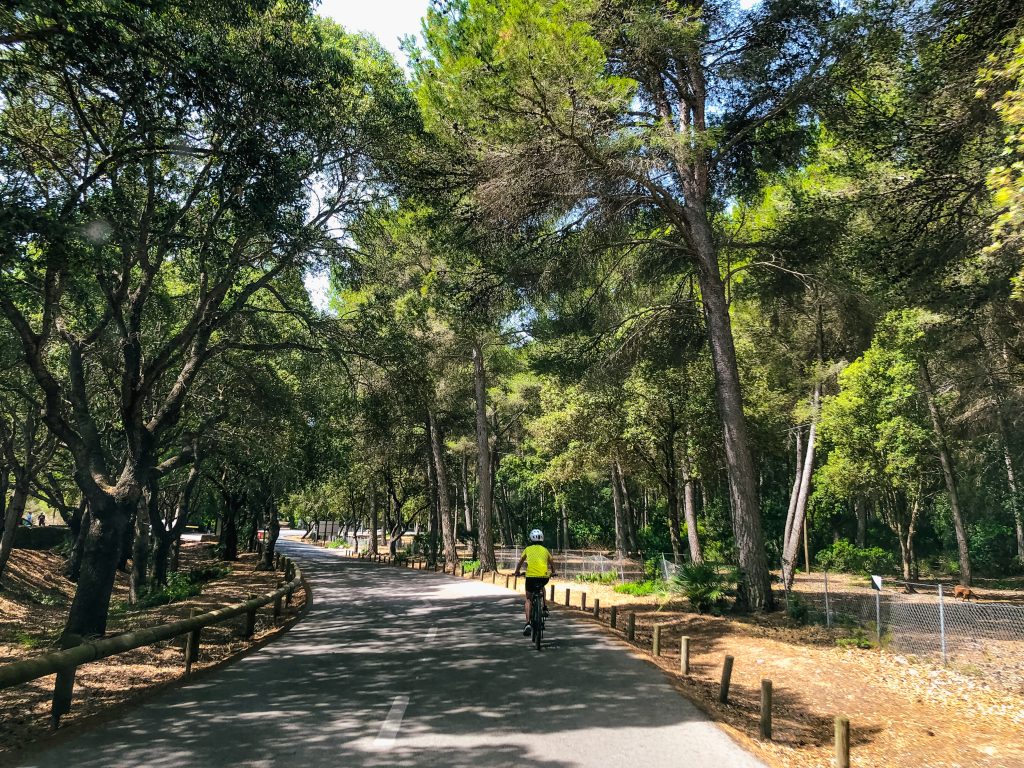 Sa Calobra
The legendary Sa Calobra climb has had some of cycling's best athletes training on it. Created by Antonio Parietti. It was originally built so tourists could access the small port at the bottom. Bradley Wiggins was rumored to have used this climb heavily for his training before his tour de France win. Many cyclists attempt the KOM, but it's currently held by Ed Laverack 2019 British hill climb champion.
In the cycling world, this is known as an epic climb. It's the most famous climb on the island and has an average gradient of 7% with a max of 9%. To conquer the Sa Colabra, you first must descend 26 hairpin turns to Port de Sa Calobra and Sa Calobra beach. The climb starts fairly sheltered as you ride through trees, but as you climb higher gets much more dramatic with bare rock and incredible stone arches to pass through. The climb ends at the Coll dels Reis summit, where you get to look down on the road you have conquered.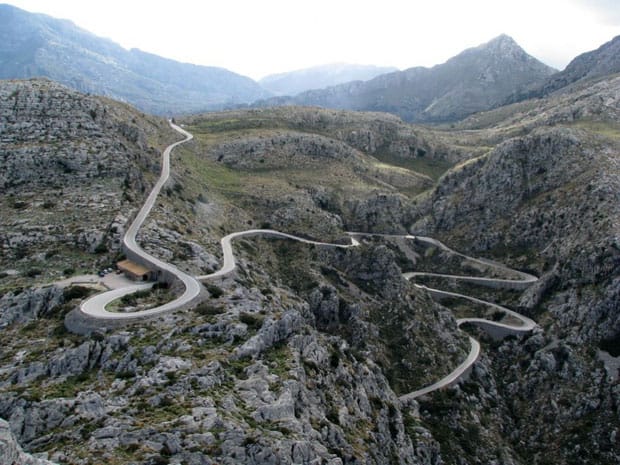 Coll de Soller (Puig Major)
The Coll de Soller is situated in the Serra de Tramuntana on the Puig Major mountain. The Puig Major, coming in at 1436m is not shy of the clouds and is a hotspot for adventure. The Col de Soller has 25 to 30 hairpin turns from each side and takes you so high up on a clear day you have views of Palma.
There's very little traffic on this climb due to there being a tunnel for cars and coaches, which makes it a quiet ride apart from other fellow cyclists. The northern side is much more shaded in the morning, and the climb can get hot in places. If you want to take it slow and are not aiming for the KOM, you have two café stops, the Ca'n Topa and the D'alt des Coll, which are great for a rest stop and some fuelling.
Tramuntana from Port Soller via Deià and Estellencs
One of the most beautiful roads in Mallorca is the road from Tramuntana to Port Soller via Deià and Estellencs. The twisting and turning road through beautiful small villages on the incredible cliff edge overlooking the side gives incredible views and smooth tarmac and is very fun to ride.
The views over the beaches at Banyalbufar and the Port des Canonge are incredible, and passing the quaint village of Valldemossa is spectacular. Places that scream beauty and are admired best by bike. Our favourite place being Galilea, known for its stunning beauty, the Galilea church built in 1806, and freely roaming goats.
Sineu and Sanctuary de La Mare de Déu de Sant Salvador
Sineu is a traditional rural town located in central Mallorca. Famous for its Wednesday weekly market and the ancient blonde stone buildings. With only 4000 inhabitants and little tourism, it is definitely a hidden gem in Mallorca.
The Santuari climb up to Sanctuary de La Mare de Déu de Sant Salvador is a winding road through Mallorca that leads to a beautiful hilltop church and former monastery where you'll be able to view all the south and central part of the island. Close by is the village of Petra is known as being the birthplace of Fray Junipero Serra, who many believe founded California.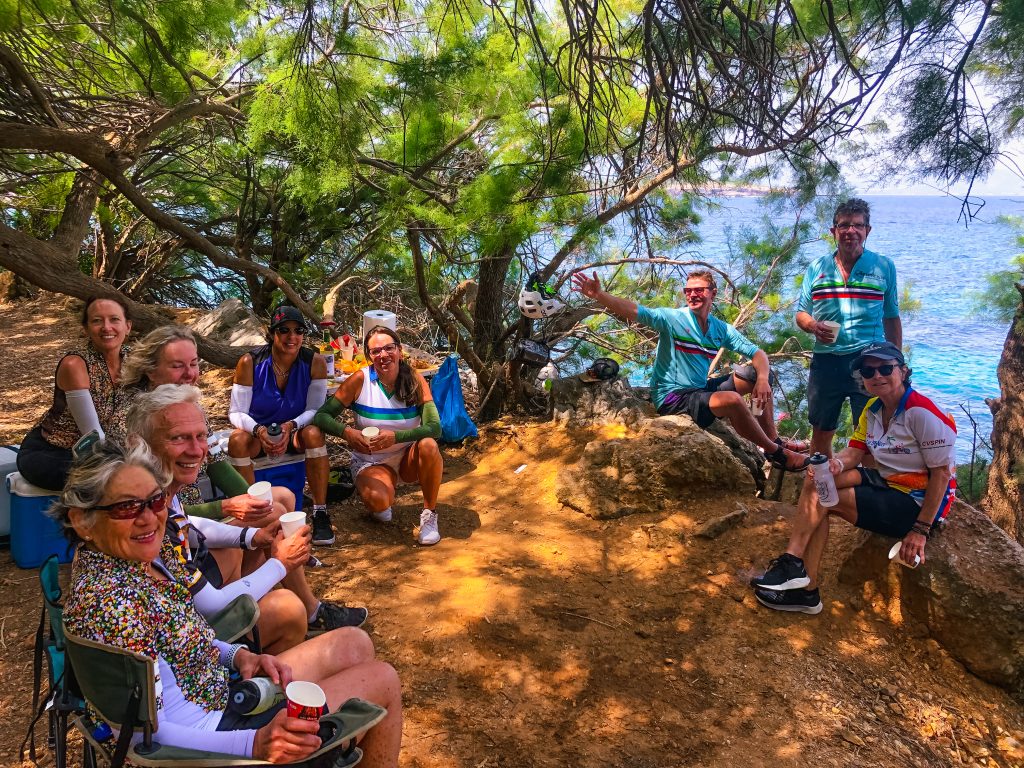 Port Pollença to Alcudia
Port de Pollença A small resort town on Majorca's northern coast, it features beautiful beaches with clear blue water. One a simple fishing port now a resort. With incredible places to eat and drink, a lovely boardwalk, and great water sports. Alcudia is an ideal place to enjoy Mallorcan heritage without having to be off the beaten track. Full of medieval houses and Mallorcan specialty shops, there's even an open air theatre in the summer months to enjoy.
This is an incredible place to enjoy while on a bike ride, and passing through will give you an understanding of a historic fishing village in Mallorca. Many tourists fall so in love with Port Pollença and Alcudia that they end up buying second homes here.
🚴🏻 Where can I book?
Mallorca is a great place for a cycling trip. If you are looking for a cycling holiday in Mallorca and want all the stress taken out of it, get to see all the highlights, and also have excellent guides and support along the whole way, look no further than our own bike tour  in Mallorca!
Contact our guides below to book!